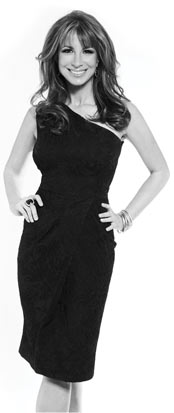 What Is Skweez Couture
Beauty Begins With A Great Foundation
From Day 1 on The Real Housewives Of New York, I have always worried about how I looked on TV. I, like all of you, have certain areas of my body that need to be "Skweezed" into a nice dress, skirt or even a pair of pants. I am obsessed with shapewear as I truly believe that beauty begins with a great foundation. I have always been frustrated about not finding the right color to match my skin color or trying to find something without a seam running down the middle. My other frustration has been sitting down and having the bottom of the shapewear peaking out. SO, why not add lace and make it pretty?
After designing my own line and literally trying on hundreds of different samples over the past 12 months, I am proud to launch Skweez Couture by Jill Zarin. I designed this line for women like myself, my daughter and my mother, who want to wear shapewear made from the best luxury materials and that is designed with the strongest power control technology in the world.
Skweez Couture makes you feel comfortable and secure by giving you a strong foundation and the right support a woman needs under her clothing, which is why, good undergarments are so important! Remember, when you feel better on the inside is the more likely you will exude the confidence and good energy you want to project on the outside!
My shapewear collection, is the key to complete your wardrobe. It will smooth your body seamlessly and "SKWEEZ" you into a more flawless you. Thank you for your support and my team and I say "Mazel" to those of you who try it and love it as much as I do!
Our Dropshipping partner is Alidropship and website design partner is Elementor. We thank Elementor for providing Discount on Pro Plan and helping in create stunning website.